December 17, 2015 - Posted to Writing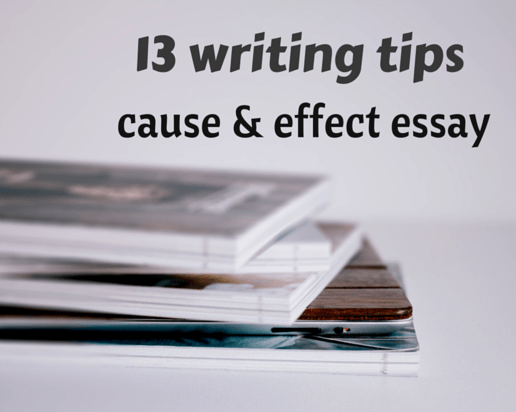 13 Cause and Effect Essay Format Tips That Will Bring You A+
All essay have two things – a topic and a purpose. When you are tasked with writing a cause-effect essay, then, the purpose is very clear. You will be presenting the causes of some situation, event, or phenomenon, or the effects of some situation, even or phenomenon, or both. As you craft your cause-effect essay, here are 13 tips that will help you produce one that will get you a high grade.
Choose a Topic that is Manageable
Dependent upon the length requirement, you will need to choose a topic that can meet but not exceed that length. If, for example, you are to write a 1-2 age essay, you cannot choose a topic as broad as "the causes and effects of global warming." People have written whole books about just a single cause or a single effect.
If you are very environmentally conscious, then choose a smaller topic that you can manage. "The effects of the destruction of the rain forests" would be appropriate for the length you have to work with.
Decide Your Focus
Proceeding with the cause and effect writing tutorial - the next step is focus. Here you have 3 choices. You can focus only on causes of something, only the effects of something, or both causes and effects of something. Again, this may be a bit pre-determined by both the details of the assignment and the length requirement.
Brainstorm the Causes and/or Effects
Write down as many causes and/or effects as you can come up with. This is a really good strategy, even if you have not decided your focus yet. You can list the causes of something and the effects of something, and see which list give you better material for your essay.
Research Your Topic
You cannot write cause/effect essays without factual information and data to back up the points you intend to make. If, for example, you have decided to write an essay on the causes of bullying, you are going to have to do some research on what psychologists have to say on the matter.
Choose 3-4 of the Most Important Causes or Effects
There may be 8 causes of bullying. From your research, however, you will find that all psychologists have 3-4 that they list most prominently. These, then, are the ones you will use.
Your Outline is the Same as You Would Produce for Any Essay
You will have an introduction, 3-4 body paragraphs, and a conclusion. Each of these 5-6 elements will merit a Roman numeral. Each body paragraph will be one cause or effect and the detail that relates to each cause and effect should be listed beneath them. Basically, it does not differ greatly from any college essay formats.
Read a Few Samples of Cause-Effect Essays Before You Begin to Write
Studying good cause-effect essays will give you a clear understanding of how they are developed.
Develop a Solid Thesis Statement
Usually, your thesis statement will include enough information so that your reader knows exactly what is coming. For example, it might be something like, "There are three major effects of the huge growth in Internet shopping." This is not the same thing as your topic. Your topic is the growth of Internet shopping. Your thesis is a statement that tells the reader what you want to say about Internet shopping.
Write Your Body Paragraphs First
This is always good advice, because as you write those paragraphs, you will think more about what you want to put in your introduction and conclusion to introduce the topic and to close it out at the end.
Make That Opening Statement an Attention-Grabber
One of the things that makes an essay great is that it engages the reader immediately, with the first sentence. Going back to the essay on the cause of bullying, you might want to open with a sentence that has a startling statistic, such as the number of kids who commit suicide each year because of bullying.
Use Good Transitions Between Paragraphs
You want to connect the points you are making in your body paragraphs with smooth transitions. If you have read some good example essays, you will have a good feel for how this is done and what transitions words or phrases should be used.
Your Rough Draft is Just that
This is a no-brainer. You know that the first written draft of your essay is not the last. It must be re-read, revised, and cleaned and polished before you submit that final draft.
Read Your Essay Aloud to Yourself
Once you think you have the final draft, do one more thing. Read the essay out loud to yourself. Having both eyes and ears involved in this final reading will catch any last minute mistakes that you still have time to correct.
There you have it – 13 tips to make you cause-effect essay rock!