July 29, 2015 - Posted to Study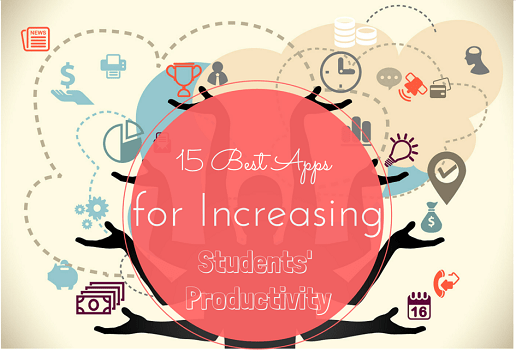 Top 15 apps for students that significantly enhance productivity
If you are a typical college student, your busy schedule likely includes a full class schedule, a job, time with friends and family, extra-curricular activities, studying, and even some time volunteering. The challenge you face is giving your best when you are so busy all of the time. As a college student who works myself, I also balance a busy schedule. I take 15 hours of classes as marketing major. I'm also enrolled in a young entrepreneur's mentorship program through a local chamber of commerce. When those activities aren't keeping me busy, I am either running my own event planning company, teaching water aerobics, or hanging out with my friends.
The reason that I am able to fit so much into my schedule is that I make use of many productivity apps and get help sometimes from a term paper writing service. Whether I use them via the web or mobile device, these apps keep organized, efficient, and on track. For this article, I have narrowed the apps I use down to 15 of my favorites. Keep reading to learn what they are, the features they have, and what I like about each one
Open Study
Open study gives you the ability to join or form online study groups. Another feature is the ability to ask Open Study experts for academic assistance. If you would like, you can also volunteer to provide other students with academic assistance. Some students also use open study to form social groups so that they can interact with other students with similar academic goals. I enjoy the global nature of Open Study that virtually guarantees that you will be able to find a group no matter what your academic area is.
Exam Countown
If important exams tend to creep up on you, Exam Countdown is an app that stores the dates of upcoming exams and then creates a countdown for you. This way, you know how many days out you are from the big test. For me, the best feature is that you can create a task list for each test date. I like to do my studying a bit at a time, as I don't function well after cramming.
Desmos
Desmos is a web based graphing calculator app. However, it will do much more for you than plotting lines and points. With Desmos, you can make your graphics come to life with animations, sliders, and other features. As a marketing student, I have used Desmos to create a visual layout of marketing statistics to demo in classroom presentations.
Koofers
Koofers is another online app that creates flash cards and practice exams based on the chapter questions and major topics in college text books. If your instructors tend to base their tests around the questions at the back of each chapter, Koofers will be useful to you.
Banjo
If you are like me, you are easily distracted by social opportunities when you should be studying. Banjo is a mobile app that will let you know when a friend is nearby. When you receive notification, and are too busy to socialize, all you need to do is make a hasty exit.
Any.Do
I love making lists. I love being able to check things off as I get them done. I also lose lists if I try to keep them in paper form. This is why Any.do is an app that I use every day. I can create my to do lists, organize my tasks, and then count on Any.do to send me reminders. It is very comfortable, beacuse you always have your smartphone with you and can make notes and changes anytime.
InstaGrok
If you need extra instruction on a classroom topic, or are simply curious about something, you can use InstaGrok to learn about it. It doesn't matter if your interest is economic theory, the civil war, or the steam engine, you can use InstaGrok to learn more. I personally use InstaGrok to strengthen my understanding of complex subjects my instructors cover.
Droid Scan
This is a no-brainer, but a brilliant idea. Download Droid Scan and your mobile device becomes a scanner. I use this to store Power Point Presentation handouts on my phone.
Share Your Board
How many times have you taken a picture of the whiteboard in order to hurriedly capture what your instructor was writing before he or she erased it? If you have my picture taking skills it always turns out blurry. Shake your Board allows you to take a picture of the whiteboard is clear and easy to read.
Evernote
Evernote is popular for good reason. There is no better app IMO for taking notes and keeping them organized. If you take a lot of notes, but they tend to become disorganized, Evernote is a great app.
Ginger Software
I have a pretty good grasp of spelling and grammar so I don't need an enhanced spelling and grammar app. However, since I am a marketing major I do a lot of writing and want to make sure that the things I write are readable and have a good 'flow'.
Moon + Reader
I use Moon Reader while I'm on the train to and from work and school. This free E Reading app let's me read ebooks directly from the internet, and tracks my progress for me.
This free download allows the user to read ebooks online. In addition to this, the user may track his or her progress on the book as a whole and on a chapter level.
Dragon Dictation
I do my best thinking while I'm walking or driving. This is why I love Dragon Dictation. It lets me record my thoughts without the burden of a keyboard. It is especially useful in winter, when you don't want to take your hands off the pocket.
Trello
Trello is an app that is designed specifically for group projects. Just create a board for your project. Then you can assign tasks, create to-do lists for each member of the group, and even work on the project together in real-time. If you've ever been the person on the group project that does all the work, Trello is a life saver.
Pocket
Pocket is a nifty little app that allows you to bookmark content and then return to it later. I enjoy this app for two reasons. 1. It allows me to put 'fun' videos away for later when I need to be working. 2. It lets me bookmark academic content until I am in a distraction free environment.