December 18, 2015 - Posted to Writing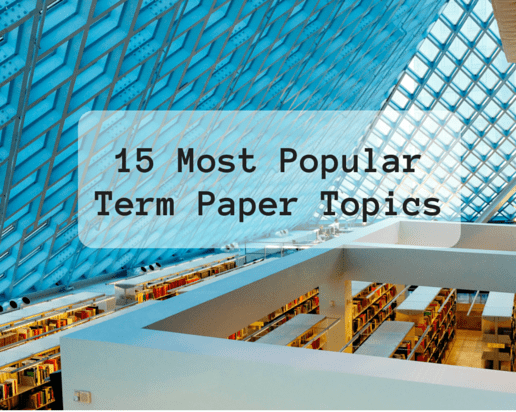 15 Most Popular Term Paper Topics
Today, a term paper is just the same as a research paper. Both involve the following:
Selecting a general topic area from which good term paper ideas can be found
Narrowing the general topic area down to a specific topic that will meet the length and depth of requirements of the assignment
Conducting research on the topic
Developing a thesis statements
Identifying sub-topics within the content
Creating an outline based upon the sub-topics
Producing a rough draft
Reviewing and editing the rough draft
Entering all citations according to the required format
Printing out final copy and submitting it
Remember that there are professional writers at term papers writing service that are able to provide sustainable quailty writing and choose great college essay topics and term paper topics.
Higher Expectations
At the college level, expectations for quality, resources used, style, and composition are much higher than those in high school. Most high school term and research papers, for example, do not require a thesis statement. Your college paper will.
The other expectation at the college level is that your topic selection will be far more scholarly. For example, in high school, a good term paper topic might be the causes of the Civil War. You would research each of the causes and provide factual information. The paper will be fully objective. At the college level, however, good term paper topics on the Civil War will involve some analysis and other critical thinking skills as well. A paper on the causes of the Civil War, for example, might focus on only one cause – states' rights vs. federal power. A title might be "States' Rights vs. Federal Power – an Issue that was Not Fully Decided by the Civil War." Now, you will be addressing the specific issues of this conflict during the 1800's of course, but you will also be demonstrating that this larger issue has never really gone away and that it remains a serious political issue still in the 21st century. In this paper you can also suggest the ways of solving the chosen problem or new ways to look at it. Now you have a worthy topic and a solid thesis statement. So, as you look for college term paper topics, choose those about which you can take some type of position.
Finding a Term Papers Writing Guide
Often, colleges or specific departments within those colleges, will provide a term papers writing guide to assist students. If your college does not, then you should search online for a guide. Be certain that you search for one that is for your level of academic study. College students should not use a guide meant for high school students and vice versa. Many universities publish guides online, and those would be good ones to use.
Guide to Getting Your Topic
There are a few considerations when you identify your specific topic for a term paper:
Choose a topic in which you have a strong interest – you will resent all of the time you have to spend if you don't even like the topic.
Run your topic by your instructor/professor to see if s/he approves. They may also help you with choosing a topic because they have much more experience and knowledge about it.
Get online and look for term papers in the general topic area you have chosen. You can get some great ideas and also check out the lengths to see if a specific topic can meet your length requirement.
Don't forget to also check out essay topics. Sometimes, common topics for college essays can be expanded nicely into research works.
Some Possible Term Paper Topics
Below are 15 most popular term paper topics that have been used over the past few years, by content field:
Business/Technology
Is "Branding" via Social Media Effective?
Management by Walking Around (MBWA) – Welcomed or Not by Employees
SWOT Analysis Case Study of a Startup
Technology and Recruitment
Social Sciences/Political Science
Gun Violence in America – A Comparative Study with Other Developed Countries
The Electoral College – a Dinosaur of American Democracy
Education
Alternatives to Standardized Testing
Technology as a change Agent in Instructional Delivery Systems
Sciences
Ethical Considerations of Biogenetic Engineering
The Butterfly Effect as Physical Law
History
Wars of Opportunity vs. Wars of Necessity
Impact of the Internet as a Cause of a "global" Perspective
English/Humanities
Chaucer's Insight into Human Behavior
Crime and Punishment as a Psychological Study of Guilt
Social Commentary in the Star Wars Series
Hopefully, this has given you an idea of the typical topics that are appropriate for a college level term paper. Keep in mind the expectations and find some good examples to guide you. Remember that you have to be interested in the chosen topic, thus whole writing process will be much more enjoyable for you. It will also influence the quality of the paper and the readers will become interested too. If you still have problems with writing your term paper or can't choose a topic – contact our support team and we will do our best to help you out!