December 09, 2015 - Posted to Writing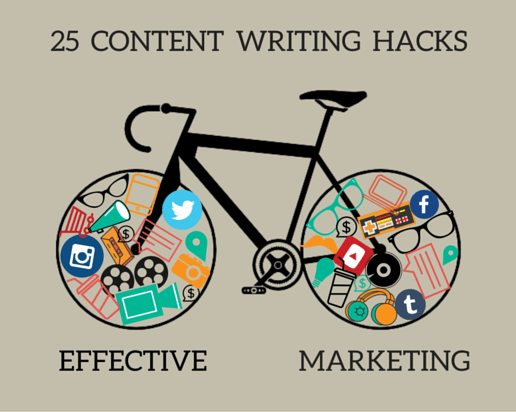 25 Content Writing Hacks: A Cheat Sheet for A Marketer
Content marketing means great content. And great content means creativity, knowing what your audience wants and needs, finding ways to craft engaging content as efficiently as possible, and distributing that content to the right channels so that it gets spread. Here are 25 hacks that will make your content creation and distribution easier, more read and shared, and will ultimately generate more traffic.
Content Creation
Find better ways to come up with topics. Sitting by yourself, trying to come with topics when none are coming, is a real bummer familiar back from the college days when you were writing term paper or writing tasks alike. Let others do the work for you. Get on your competitors' blogs and social media pages, and see what is being written, commented on and shared. Use those topics for our own.
Use topic generator tools such as HubSpot's free generator or Portent. You plug in words related to your niche, and voila! Some may be totally unusable, but others will be perfect.
Titles are one of the most important parts of your content. If you can't come up with really compelling titles, then use a title-generator tool for that too. Try TweakYourBiz or content forest Generator for some really catchy titles based on keywords you enter.
Use visuals to help grab and keep attention. Readers will stay longer and at least scan your content if it is broken up by visuals. With all of the resources for free photos and other images, for creating infographics, etc. you should never again post any content without visuals.
Make sure that your registration/subscription form are really user-friendly. If you are "gating" content with these forms, no one wants to spend time filling them out. Get a name and an email address – you can pursue more information later.
Re-purpose your content in several different ways. Here's just one example. If you have written a post with a list (like this one), now take each one of the items on that list, dig deeper into the topic and write a separate post on each of those items. If I did that here, I'd have 25 potential blog posts. Try to stay motivated to keep looking for ways to re-purpose. Every time you are able to do that, it is one less piece of content you have to generate.
Turn text content into infographics, animated videos and slide shares. One text post then becomes 4. There are great tools out there now that make this really easy for even a novice.
You want your content to be factually true and to be "tied" to influencers and other big names in your industry. You also want great links, quotes, and other images. Use Google Docs Research Tool to get the facts, links, quote and images that lend lots of credibility to you. Credibility generates trust, and trust gets people into your sales funnel.
Ask followers/customers to participate in your content creation. They love to do this. If, for example, you sell pet supplies, as for photos or videos of customer pets. Feature one a week – when a reader's pet is highlighted, you can bet that will be shared.
Create quizzes, surveys, and polls. Readers love to take them and they love to share their results. That's why you see so many quizzes on Facebook – marketers know they will be shared and thus reach a whole "web" of new communities.
If you are struggling with good content creation, even if you have great topic ideas, it may be time to get some copywriting assistance from professional creative writers who do this for a living. Expert writers from GhostProfessors can generate great engaging content for you. They do this for a living.
Analyzing Content
Use Google analytics or some other tool to see what content is generating the most traffic. Create more related content and re-purpose it into other media
Use A/B testing with some of your design features, to determine which get a better response.
Contract with a user-testing firm that will assess and analyze navigation, speed, and many other things, so that your user experience is the best it can be.
Test responses to your emails by using different "sender" notifications
Use a tool like Grammarly or Hemingway to analyze your text content for errors in grammar, sentence structure, and punctuation.
Use Read-able.com to analyze the reading level of the content you produce. Unless you have a highly sophisticated audience, your content should be written at about the 7th grade level. You can copy and paste your content and get a reading level generated.
Test your site every time you change something. Be certain that speed and compatibility exists for all devices.
Distributing Your Content
Choose the 2-3 social media sites you know your target audience uses. Trying to use them all will be frustrating for you and will be wasted time. And once you have selected the most popular social media platforms for your audience, do some research on when they hang out as well. You will want to post during times they are online and far more likely to connect with you and share with their communities.
Place share buttons on every piece of content you publish – on your blog, in your emails, and even in content on other pages on your site, if it is shareable.
Use Facebook and Twitter for "teasers" to link to your blog, or to provide coupons, announce special discounts and sales. Tie getting those coupons or discounts to sharing the posts
Use Instagram to create a carousel of photos that tell a story about you or your brand. These are becoming increasingly popular and shared. If you want some ideas on using Instagram to tell a story, check out ModCloth's Instagram posts.
Submit your great content to blogs that are related to your niche but are not direct competitors. You can pick up an entirely new audience and provide a link back to you.
Distribute your content multiple times – several times a day on Twitter and Instagram and at least 2 times during the first week on Facebook. Especially on Twitter and Instagram, you should continue to post periodically throughout the month.
Miscellaneous Hacks
Try to develop a series of related content topics that you will publish over a several week period. Publicize the next one at the end of each current post. Later you can re-purpose that series into an e-guide or a white paper and offer it free in exchange for an email address or a share.
Use humor whenever you can – readers will keep coming back if they know you have funny stories or a joke of the day. Insert humor whenever possible. And stories that are inspiring will have great appeal as well. Create content that features a charity you support and offer to donate a portion of every purchase to that charity – big draw!
Have you been counting? If so you know you now have 26 hacks – one bonus!