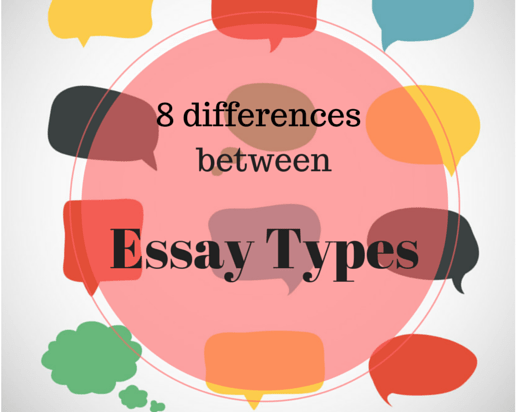 ABOUT 8 TYPES OF ESSAYS
When people are asked about the different types of essays, many of them assume that the question is addressing the number of topics that an essay can cover. The answer to that question is virtually unlimited. What is limited, however, is the number of essay types that exist. This is a finite number, and in fact, the answer to this question is 8. There are 8 types of essay formats that exist. Any other style of essay that is assigned is either a derivative of one of the 8 types, or is a unique creation of an instructor or his/her colleagues.
Each essay type has its own set of rules and instructions that go along with it. Mastering each of the 8 types of college essays is one way for students to guarantee that they are likely to be successful at even the most difficult assignments or other writing challenges. Our service has got something here for you. So, let's go through a brief description of each essay type.
The Compare and Contrast Essay
This is fairly self-explanatory. Here, the writer simply subjects two items to an analysis where they are either compared, contrasted, or both.
Narrative Essay
This is often seen as an autobiographical essay. This is because it written by the student as a narrative of one of their own personal experiences. Narratives can be written in the first person because the point of view reflects an author's willingness to share his activities.
Persuasive/Argumentative Essay
A student writing this kind of essay has only one job. They must do a lot of research on the topic at hand, and then they must argue or persuade the reading audience to buy into their The position on that particular subject.
The Descriptive Essay
This essay is not as simple as it seems. To many students, an assignment like this is means that all they need to do is tell the audience about something. This is untrue, a descriptive essay makes the reader feel as if they are experiencing an event right alongside with the writer. The trick to this is the effective us of descriptive language.
The Definition Essay
Doesn't it seem like it would be easy to determine the definition of a word or phrase? Actually, it is not easy at all. Life is full of complex words and phrases that cannot be absolutely defined by one individual or culture. Friendship, love, responsibility, fear, courage, etc., are all words that defy one common definition
The Process Essay
A process essay can be thought of as an online guide that the writer creates to teach readers how to accomplish something. These essays are often written in the second person point of view, as the word "you" is very appropriate in instructional material.
The Critical Essay
The purpose of many essays is to analyze, evaluate and criticize other works. This could be reviewing an article, work of art, music, experience at a restaurant, or even a sporting event. The critical essay is the writer's critique of something based on specific criterial.
Cause and Effect
No event happens in a vacuum. Everything that happens, happens because another event caused it to happen. On the other hand, every event that happens causes another set of events to kick off. A cause and effect essay is a great way for students to explore the relationships between events. An essayist can compose a cause an effect essay that focuses only on effects, only on causes, or that focuses on both.
The writing style also varies according to the type of essay. Although we mentioned that mastering each essay guarantees the student's success, it is still quite a challenge. Practice requires writing a lot of different types of mediums, which means spending too much time and effort.
The whole process is especially beneficial for budding writers. However, students, who just have to submit these papers for fulfillment of their course requirements, will find it stressful to write them. It will not only take too much of their time, but also cause them to lose focus on other activities.
If you need help to write a research paper or a specific type of essay, trust that we can always help you out so you can stay focused in class. It is best to turn to professional writers so you can be guided accordingly, and you'll be able to submit a well-researched and well-written essay or research papers. Their works are guaranteed clear, concise, unique and customized based on your requirements. Not only will you be proud to submit them as your own, you can also learn from it while you enjoy the benefits of having spare time to focus on other things that matter.