June 24, 2015 - Posted to Study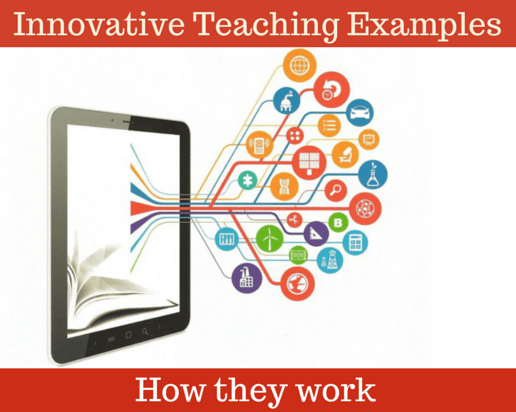 Take a moment to remember your favorite teachers. What was it that they did to make your experience in the classroom better? How did they know how to make subjects that are often boring seem interesting? Chances are, these teachers used innovative methods to keep students like yourself interested and engaged in the learning process. Wouldn't it be nice if all classrooms were led by innovative teachers? So, in what ways are teachers innovating today, and how are those innovations working?
Building Technology into the Educational Process
In most schools there are computers, laptops, and (occasionally) tablets in designated areas. Students are given access to this technology at designated times for specific reasons. The purpose for using this technology might be for working on special projects, typing assignments, using educational software to for skills development, or recreational use as a reward. What a waste of a great opportunity. Educational innovators are tearing down the wall between the classroom and technology to create an integrated experience where students use technology to enhance their learning.
What are the results? Students learn to view using technology as a way to accomplish tasks. They learn to research information, how to discriminate between good information and bad, and how to apply new information in practical ways.
Fostering Active Learning
When teachers replace the lecture based model of teaching with an active learning environment, students are no longer passive consumers of information. Instead, they actively participate in gathering and applying new information. For example, a teacher may lead of an instruction period with by handing out some information on a topic, and then dividing the class into teams who are then asked to create something or find a solution to a problem. As the students work to achieve this, the teacher acts as a facilitator in this process. Once the work is completed, a group discussion is held to discuss which actions were fruitful and which were not. Again, just like the project, the discussion is driven by the students with the teacher stepping in only to encourage or to keep things on track.
Students who actively participate in the learning experience are less likely to fall prey to distractions, and are more likely to retain information. They also learn the art of collaboration and to value making mistakes as part of the learning process.
Student Led Learning
Student led learning is not learning that is controlled by the students. Instead, it is a teaching method that incorporates students' interests into the learning process. The result is that the lessons being taught feel relevant to the students. Teachers who use this method have taken the time to understand the interests, passions, and even the concerns of their students. Then, whenever possible, they incorporate things that address those in their lesson plans.
When students are addressed with their needs and interests in mind, concepts are easier for them to understand. This teaching method also fosters a positive relationship between the instructor and their students. More information you can find here - Innovative Instructor.
Teachers usually require students to submit a research paper to be able to assess how well they understand the chosen topic, and to know their own perception regarding it. Students, who do not have the time to write one, turn to the Internet to search for available research papers online so they can fulfill the requirements. However, getting these services comes with a risk. Either they provide low quality of work that does not meet the standards of the clients or they recycle and resell research papers. These can put the students at risk of damaging their academic standings and reputation.
We understand all the pressure and stress of being a student, and the importance of student-life balance. Juggling academics, co curricular activities and personal life can be very taxing. Those who have to submit a research paper but somehow cannot do so should check ghostprofessors.com for assistance.
Like in a student-centered learning system that emphasizes students' abilities, interests and learning styles, we give you options to choose what you like and how you want your research papers done. You just have to coordinate with our professional writers and tell them all the needed information and they will take it from there. Getting our service does not mean you are off the hook already. It works as an interactive learning environment, and you still actively participate in the whole learning process. The only perks are, less stress and you get to enjoy more free time to accomplish other tasks.
You won't have to worry about the quality of the work because we assure you that they are custom made to fit your requirements and not recycled. You will learn everything that you have to learn without doing all the work, and you can proudly turn them in as your own without all the risk.