August 20, 2015 - Posted to Writing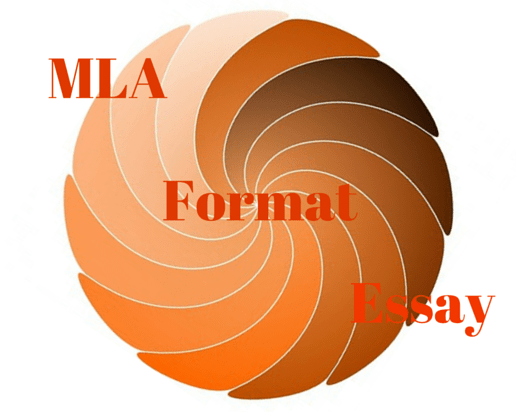 The MLA Format Essay
Many students come to college with experience in the APA writing format, and are then asked to switch over to MLA. Even thought MLA is still within basic essay formats - this can be frustrating. Although it will be a necessity, because professors can be very picky sometimes! Using the wrong format or making format mistakes can lower your grade, so just "bite the bullet" and learn how to do it. Fortunately, you are now reading probably the simplest explanation you will ever find on MLA format for an essay. Remember, format deals with three things: how your essay will look physically, how you will insert your in-text references (citations), and how you will write up that bibliography (end-of-text citations).
How Your MLA Style Essay Will Look
This part of MLA format is not too tough, and you should be able to "get it" pretty quickly:
First, there is no title page. The title information is all put onto the actual first page of your essay

In this order, each on a separate line, you put the following in the upper left-hand corner of your first page:
Your name

Your instructor's name

The title of the course

The date of submission
In the upper right of the page, you begin your page numbering. Your first page is page 1, obviously.

Now, double space below the date and put your essay title, centered on the page

Now, all you do is double-space and start your essay.
Margins/Spacing
Make your margins 1-inch on all sides
Justify your left margin of course; do not justify your right margin
Double-space the paper, and indent each new paragraph ½ - inch (5 spaces)
Page Numbers/Header: Starting with page 2, you need a header in the upper right with your last name followed by the page number – no punctuation
Essay Format MLA In-Text Citations
In-text citations are pretty easy, so here goes:
After you have finished writing text that needs to be cited (a paraphrased piece of information or a direct quote), you simply put the author's last name and the page or page numbers from which the information came. So, the citation would look liked this (Johnson 7-9). Note: there is no punctuation after the author's name.

If you are inserting a direct quote that will be more than 3 lines long, you need to indent the whole thing and single space it. You can do one of two things here:
You can refer to the author in the text of your writing like this: Johnson (35-37) had this to say about the early influence of the Tea Party on Republican politics. Then you double-space and insert the quote.

You can use the regular citation format at the end of the quote (Johnson 35-37). And don't put quotation marks around a quote that has been indented.
End-of-Text Citations – MLA Format for Essays
These things get a bit trickier. First, center the word "Bibliography" at the page top.
All sources will be listed in alphabetical order, according to the last name of the author (the first author listed, if there are more than one).
For a Book:
Johnson, Stephen, Origins of the Tea Party Movement, Chicago: Newsday Press, 2014.
For a Journal Article
Johnson, Brian, "The Origins of the Tea Party Movement," U.S. News and World Report, Vol 5 #7, January, 2012, pp. 112-116.
Web Resource
Johnson, Stephen, "The Origins of the Tea Party Movement," The Huffington Post, March 10, 2011 (date you read it),http://www.huffingtonpost.com.news/the-origins-of-the-tea-party-movement/2011/3/10/
For unusual sources, such as speeches you attended, check with our professor or the Purdue Owl Website.
So, that's it - the MLA format for essays. Yes, it requires lots of detail, and that can be a bit frustrating. If you have finished your essay and need it formatted, GhostProfessors.com has someone who can have it done immediately, at a very reasonable cost. Just contact us!
Students should follow the guidelines carefully when formatting their essays and research papers. The type of essay should still be distinguishable after it has been formatted. For instance, cause and effect essay structure depends on the number of causes and effects or the casual chain. Following the format can be a little challenging. If you need to learn more about the cause and effect essay definition check our resources and read some examples.
MLA style of formatting is the most commonly used style when writing papers in Humanities and Liberal Arts areas of studies. It has specific rules regarding the style and citations of sources. Professors also require students to follow the format when writing essays to properly cite sources of supporting evidences.
Students better take notes of the rules and follow in-text citations when writing their essays if needed. It can be confusing at times but the good thing is we can definitely help you out. We can guide you through the whole process to make sure you follow all details or you get our custom writing service and we'll do it for you. Either way, you'll get the benefits of learning how to write essays in MLA style format and submit a well-written work with pride.